Vendors We Use In Columbus, Ohio
A CertainTeed SELECT Shingle Roofer is in the top 1% of his profession. Because of this, you can rest assured that you are getting one of the best. Holding this credential means that the Ohio contractor has undertaken a rigorous process involving in-depth educational and accreditation steps. This is simply not a test that a roofing contractor takes, but rather a maintenance of principle and customer satisfaction. Read More...


Alcoa® offers the most complete line of products for enhancing the beauty of your home. Designer accessories such as Soffit fascia, shutters, and accent panels will add the finishing touches to your home.


For more than 125 years, individuals have been working to create a perfect leaf-free gutter or devising contraptions to keep leaves and other debris from collecting in gutters and impeding water flow. Read More...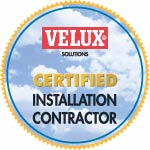 Velux is the easiest, most affordable way to add style, beauty and value to your home. It offers the perfect solution for hallways, bathrooms, walk-in-closets — anywhere that would benefit from natural light, but does not require a view to the world. Read More..
"Jess was well above board. Took the time that was needed to go over all concerns and had an interest in what the owner was trying to do…..everyone worked well with each other. The copper work was the best way to address those problems around the window and chimney. A real nice look"

Gary D.
Hilliard, Ohio
Prefer to call us?
Call: (614) 263-8899
"
What You Need To Know Before Hiring A Roofing Contractor"
Consumer's Guide that will help you avoid all the hassles and headaches when you remodel your home.