Vinyl Siding in Columbus, Ohio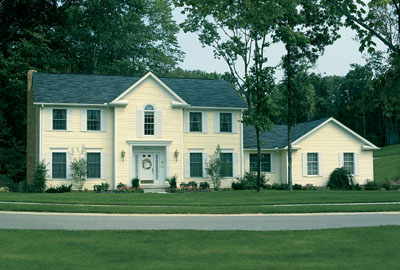 New vinyl siding will enhance the look of your Ohio home and it can increase the resale value by more than $5,000. Homes with new siding recouped an average of 66 percent of the siding cost in the Columbus area. Today's improved vinyl siding can truly beautify your home and with Paramount Roofing you get the most for your home improvement dollars.
Benefits of Vinyl Siding
Vinyl siding is made out of PVC (polyvinyl chloride); a heavy duty material, co-extruded that provides ease of maintenance, durability and strength to the exterior of your home. Vinyl siding's main benefits are its clean look, easy maintenance, weatherability and customizability. One of the characteristics of Ohio is its variable weather. Braving the beautiful but strong summer sun to winter blizzards, Ohio houses are perfect candidates for vinyl siding.
Maintenance Free: No more painting! Two of the many benefits
of Vinyl Siding are weather durability and extremely low maintenance.

Lifetime Warranty: Siding comes with a written lifetime warranty issued by reputable manufacturers who have been in business many years. Also, most warranties are transferable.

Energy Efficient: Warmer winters and cooler summers. We apply insulation on your entire house before we install siding. This insulation creates lower monthly bills for you.

Preferred Vinyl Siding Vendors

Alcoa® offers the most complete line of products for enhancing the beauty of your home. Designer accessories such as Soffit fascia, shutters, and accent panels will add the finishing touches to your home.
If you are looking for a Columbus vinyl siding specialist, please call us today at 614-263-8899 or complete our online request form.
Speak to a Vinyl Siding Specialist Today!
Click Here For Your

Vinyl Siding Articles

The Importance of Vinyl Siding

3 Things To Check When Hiring A Contractor


"Jess was well above board. Took the time that was needed to go over all concerns and had an interest in what the owner was trying to do…..everyone worked well with each other. The copper work was the best way to address those problems around the window and chimney. A real nice look"

Gary D.
Hilliard, Ohio
Prefer to call us?
Call: (614) 263-8899
"
What You Need To Know Before Hiring A Roofing Contractor"
Consumer's Guide that will help you avoid all the hassles and headaches when you remodel your home.