CertainTeed Select Shingle Roofer in Columbus, Ohio
A CertainTeed SELECT Shingle Roofer is in the top 1% of his profession. Because of this, you can rest assured that you are getting one of the best. Holding this credential means that the Ohio contractor has undertaken a rigorous process involving in-depth educational and accreditation steps. This is simply not a test that a roofing contractor takes, but rather a maintenance of principle and customer satisfaction. Maintaining SELECT status requires continuing education and adherence to strict standards of quality and professionalism.

A requirement of this standard is that a percentage of the Ohio contractor's installers, and at least one supervisor, are Master Shingle Applicators™ (MSA). Another requirement is that each work crew must have at least one employee who either: has earned the Quality Master™ Seal, thus ensuring the crew working on your roof is being guided by a knowledgeable expert, OR is a member of the prestigious Certainteed Professional Roofer Advisory Council, whose membership is by invitation only and is based on a contractor's professional standing. A SELECT Shingle Roofer also must carry worker's compensation insurance and liability insurance to ensure the protection of the customer.

Overall, what SELECT Shingle Roofer certification means to you is that you can be assured that your Ohio contractor is among the most skilled professionals in the industry and utilizes some of the finest materials available to complete the job.

The CertainTeed Roofing System
Paramount Roofing will only install the "Integrity Roofing System" by CertainTeed. CertainTeed has provided Premier Exteriors with the best roofing system available. The warranty is the best in the industry and the shingle design gives your home endless possibilities.

When you choose an "Integrity Roof System", you also gain a single manufacturing source that stands behind all of the roof system components. You will appreciate this one-stop advantage should any warranty issues need to be addressed.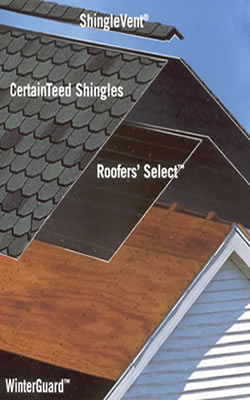 THE INTEGRITY ROOF SYSTEM
Superb performers that work even better as a team...

WinterGuard™
Waterproofing shingle underlayment prevents leaks from ice dams and wind-driven rain in vulnerable areas.
Roofers' Select™
High-performance underlayment as a secondary barrier against leaks.
CertainTeed Shingles
High-quality shingles available in a wide variety of styles and colors, covered by one of the best warranties in the business.
Shingle Vent®
Air Vent, Inc. offers a full line of ventilation products that improves air circulation throughout your attic.
Flintlastic™ Roll Roofing
A selection of high-quality roll roofing products for porches, carports, canopies, additions and any flat (or low-slope) roof.

All CertainTeed shingle warranties include SureStart coverage, which offers additional protection against manufacturing defects during the critical early years after installation. SureStart covers the cost of labor and materials required to repair or replace any shingles proven defective.

When you choose an Integrity Roof System you also gain a single manufacturing source that stands behind all of the roof system components. You will appreciate this one-stop advantage should any warranty issues need to be addressed. Please contact us today at 614-263-8899 to speak with one of our Roofing Specialists.

If you are looking for a CertainTeed Select Shingle Roofer, please call us today at 614-263-8899 or complete our online request form.
Roofing Articles

Better Roofs Are Less Expensive

3 Things To Check When Hiring A Contractor


"Jess was well above board. Took the time that was needed to go over all concerns and had an interest in what the owner was trying to do…..everyone worked well with each other"

Gary D.
Hilliard, Ohio
Prefer to call us?
Call: (614) 263-8899
"
What You Need To Know Before Hiring A Roofing Contractor"
Consumer's Guide that will help you avoid all the hassles and headaches when you remodel your home.