Metal and Slate Roofing in Columbus, Ohio
Paramount Roofing a licensed and insured roofing contractor located in Columbus and services Central, Ohio. Paramount Roofing takes pride in being able to provide its customers with the best roofing products, quality workmanship and a warranty all at reasonable prices.
What most Ohio homeowners desire is a roof that's not too expensive, requires no maintenance, and lasts forever. But most roofs are replaced - or at least repaired - every ten years. By carefully choosing your home's roofing material, you can reduce the cost of replacement. In the long run, you'll use less building material, fill up less landfill space with discarded material, and put less demand on our natural resources.

You can realize other environmental benefits from your roofing choices. If you select a light-colored surface or a material that doesn't absorb heat from the sun, you significantly reduce your home's cooling needs. When your attic stays cooler, your cooling bills go down. If you have any questions about different roofs, please contact us or call 614-263-8899 and one of our roofing specialists will meet with you on your needs.
What is Metal Roofing?
Metal roofs are coming back into vogue. In the late 1700s, zinc, copper, and lead were the most popular materials used for roofing - such famous historic buildings as the Washington Monument and Thomas Jefferson's Monticello have metal roofs.

Standing-seam steel roofing is the most popular residential metal roofing today. But metal roofs can also be made to resemble wood shakes, clay tiles, shingles, and Victorian metal tiles. Aluminum or coated steel is formed into individual shingles or tiles, or into modular panels four feet long that mimic a row of shingles or tiles.

Metal roofs are durable, fire retardant and almost maintenance-free. They are also energy efficient; metal reflects heat and blocks its transfer into the attic. Metal roofs absorb 34 percent less heat than asphalt shingles, and homeowners switching to metal roofing reported saving up to 20 percent on their energy bills.
What is Slate Roofing?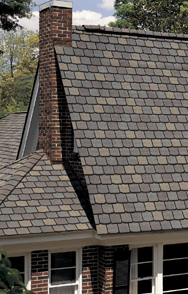 Tile and slate roofing is very heavy, sometimes requiring structural reinforcement. Slate roofs last much longer (50 years or more) than asphalt shingle roofs. Depending on the slate's quality, the roof may last 50 years or more. Slate does cost a lot more initially, and because it is brittle, may require more repairs over time.

There aren't a lot of people skilled in slate repair work, so it can sometimes be a problem to get repairs done.

Among those that opt for slate, most do so because it is perceived to be a higher-end product. Among new Ohio homes, you're only likely to see it on the most expensive. If you already have slate, you're usually better off repairing it rather than replacing it.
Whatever roofing material you want, Paramount Roofing can help you with your project. We specialize in both metal and slate roofing and are committed to creating the best experience for our clients.
Call today at 614-263-8899 or fill out our simple online request form to speak to a roofing specialist in Columbus, OH.
Roofing Articles

Better Roofs Are Less Expensive

3 Things To Check When Hiring A Contractor


"Just a note to let you and your crew know that they did a good job. I appreciate the way they kept me advised of the job progress by using the door hanger. You need to be commended for the effort you put into Customer Service – Something that is hard to find nowadays"

Marty G.
Minerva Park, Ohio
Prefer to call us?
Call: (614) 263-8899
"
What You Need To Know Before Hiring A Roofing Contractor"
Consumer's Guide that will help you avoid all the hassles and headaches when you remodel your home.