Skylights and Sun tunnels in Columbus, Ohio
Nothing transform a space like natural light and fresh air. The beauty they bring into your surroundings is a quality that no artificial light source can imitate.

Providing 30% more light than vertical windows and enhanced air circulation, VELUX® Roof Windows and Skylights deliver a constant source of natural elements to your home. But they do more than just let light in.

Because of their unique overhead position, they bring light to life. They transform the room. It looks more spacious. Brighter. Lighter. There is a sparkle in the space that wasn't there before.

So add VELUX® Roof Windows and Skylights to your space and let the light into your home. After all, that light traveled millions of miles to get here. The least you can do is let it in.

Paramount Roofing proudly installs several Velux skylight models with new roofs in Columbus, Ohio. Contact us today for a consultation.

Types Of Velux Skylights
Velux Sun Tunnel® - is the easiest, most affordable way to add style, beauty and value to your home. It offers the perfect solution for hallways, bathrooms, walk-in-closets — anywhere that would benefit from natural light, but does not require a view to the world.
Velux VSE™ Electric Ventilating Skylight - is the physical representation of the ultimate skylight experience: Natural Light, Fresh Air and Outlook to the World.


Velux VS® Ventilating Skylight - The premier choice for discerning builders, the VS opens for lots of fresh air and provides abundant light.


Velux FS™ Fixed Skylight - Provides an economical alternative
where maximum lighting is the only requirement.

Velux FSF® Fixed Skylight - Brings beautiful daylight into your home along with an added benefit - the model FSF features a ventilation flap that opens to allow air to circulate.


Velux FCM™ Curb Mounted Fixed Skylight - is sized to work with all types of site-built curbs. The FCM has no fixed top, bottom or sides so you can install it in whatever direction you want.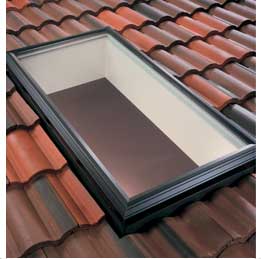 Velux GDL Cabrio™ Roof Window - fits flush to the roof just like our other roof windows. But when you open it, you open up a whole new dimension - an instant balcony with your own personal rooftop view.
Velux Model GPL® Roof Windows - lets you expand or transform upstairs space into beautiful living areas filled with daylight, outdoor views, and fresh air.
QVE Self-Flashed Electric Venting Skylight - The model QVE venting electric skylight brings abundant natural light into your home and with the touch of a button it opens to let fresh air in, making this the ultimate Q series skylight.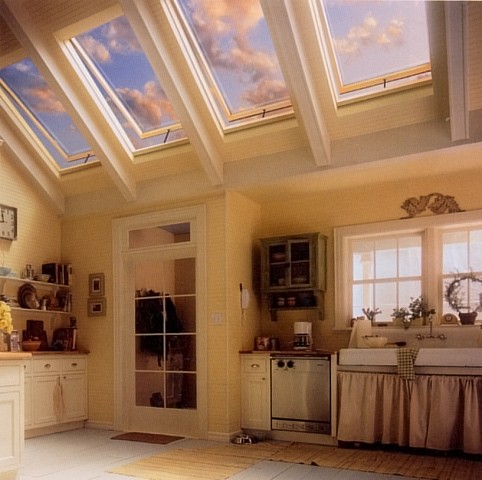 QVM Self-Flashed Manual Venting Skylight - Ideal for kitchens, baths, and other humid areas. Opening for maximum fresh air, the QVM contributes to a home's proper moisture balance and comfort level by allowing stale, humid air to be released.



QFS Self-Flashed Fixed Skylight - Natural lighting and dramatic views for family rooms, bedrooms, hallways and closets. Perfect for visually expanding areas such as hallways, stairwells and other dark spaces that can be transformed with light and sky views.

EKL/EKW/EKM Combi-Flashing® Deck Mounted Skylights - For dramatic multiple unit
installations, this modular system allows easy installation of an unlimited number of skylights closely together to dramatically transform interior spaces with light.

Truss Series Deck Mounted Skylight - Fits perfectly between trusses set 24" on center. Designed for builders, these skylights include positioning blocks and paint shield on FS models.

If you are looking for a Columbus skylight and sun tunnel professional, please call us today at 614-263-8899 or complete our online request form.
Vinyl Siding Articles

Day lighting Trends

3 Things To Check When Hiring A Contractor


"Jess was well above board. Took the time that was needed to go over all concerns and had an interest in what the owner was trying to do…..everyone worked well with each other. The copper work was the best way to address those problems around the window and chimney. A real nice look"

Gary D.
Hilliard, Ohio
Prefer to call us?
Call: (614) 263-8899
"
What You Need To Know Before Hiring A Roofing Contractor"
Consumer's Guide that will help you avoid all the hassles and headaches when you remodel your home.