Signs Your Columbus Home Needs Roof Repairs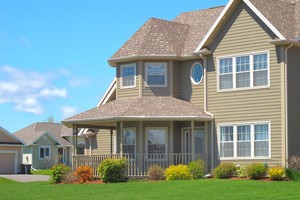 Roof damage never happens when we expect it to. Usually, we find the damage after a storm or when high winds have blown through the area. Sometimes it's just a shingle or two laying in the yard and sometimes it's obvious enough as we're sheltering inside from the storm that we know something went wrong.
Some families experience roof cave-ins due to heavy snow. This is so unfortunate, it makes the heart break to think of it.
The professionals at Paramount Roofing want everyone to be safe in their homes with a strong roof structure that protects them well. This is why we want you to be able to recognize some signs that roof repairs are needed.
Some signs are obvious, some you need to see up close or check for. Please stay safe on ladders and have a partner stabilize the bottom for you. If you aren't sure and need a Columbus roofing contractor to take a look at it, we offer professional inspections.
Need Roof Repairs? Check For These Signs
Missing shingles
Loose shingles
Roof sagging
Leak stains on ceiling
Leak stains on drywall
Bubbling of paint or wall texture
Cracked shingles
Discolored shingles
Soft spots on the roof
Bubbles of the roof structure
Mold
Shingle edges along roof edge damaged
If you see these signs, you'll need to call a local roofer for repairs. By the time you notice these things, it's past the time for roof repairs.
If foul weather comes along again, your weakened roof could be at risk for failure. It's unfortunate that so many wait until winter weather to see if their roof needs repair.
Professional Roof Inspections Can Save You Thousands
Anytime you own something as expensive as a roof, it's important to know what's going on with it and what to expect from it. Just think about your automobile. You drive it every day and know when it was maintained or repaired last. In general, you know what type of condition it's in at all times. It needs to be the same with your roof.
A professional roof inspection documents every detail of your roof structure so you always know what type of shape it's in, what repairs need to be made, and how long to expect it to last. You can feasibly get by with an inspection every five years, but every couple of years is best in OH due to the snow, ice, and moist or wet weather throughout many months of the year.
If you have questions or want to inquire about our Roofing Services in Columbus, OH, please call paramount Roofing at (614) 263-8899 or fill out our online Free Estimate form.